How to get luxuriously smooth legs — Tips for shaving legs properly
For glowing, straight-off-the-beach legs any time of year, try Shaving Club's fave tips to get that super smooth skin you want! This is a 'how to shave your legs for beginners'… men and women.
1. Soften skin for a closer shave
Warm water helps to soften hair and dry or rough skin, and open pores ready for a cleaner shave.
So, if you love to relax in the bath, and have the time, soak your legs in the warm water before you shave. If you are shaving your legs in the shower, wait until the end of your shower to shave your legs. This way your skin will have had time to soak and soften.
Try not to use water that is too hot as this will dry your skin, making it feel rough instead of smooth.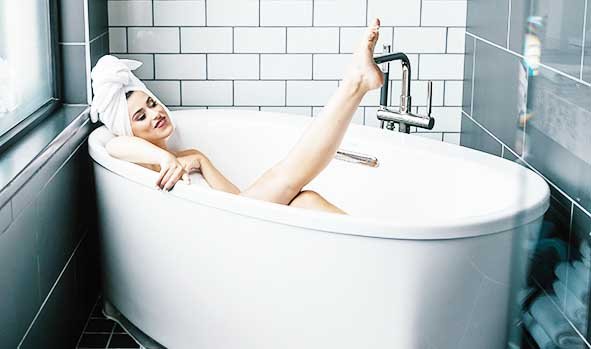 Photo by Spencer Davis on Unsplash
2. Exfoliate with a good scrub
For luxuriously smooth legs, prepare your skin with a good exfoliating scrub.
Exfoliating is the process of removing dead skin cells to reveal beautiful, healthy skin. Our favourite exfoliating scrub is home-made (combine white sugar, extra virgin olive oil and freshly-squeezed lemon juice). Exfoliating helps the razor reach your leg hairs, meaning you get a closer shave and super smooth, beautiful skin.
If you don't exfoliate, your dry skin will clog your razor, stopping you from getting the closest shave possible. Here at Team Shaving Club, we love exfoliating, shaving, exfoliating again and then shaving again. This technique means you're really getting rid of any remaining dead/dry skin. So, rinse your razor well after this.
3. Use the best shaving products for legs
Along with preparing your skin, what can you use to shave your legs? Using the best products for shaving your legs reduces the chance of nicks and cuts, shaving bumps and general skin irritation.
Choose a quality razor, such as our Wonderflex6 6-blade flex head razor, and your favourite shaving gel for legs.
Shaving gel will soften the hair and skin more and will ensure the razor can glide over your skin and remove hairs easily. It will also mean you can easily see what areas you've already shaved.
Investing in a shaving subscription like Shaving Club, which delivers razor blades right to your door, means you'll always have a sharp, clean razor ready to go.
4. Trim any longer hairs before shaving
Longer hairs will get tangled in your razor and clog it up quickly. So, your razor won't be able to do it's job and you won't get the close shave and smooth skin you want. Make sure you use a trimmer for any longer hairs before shaving.
5. Change your razor regularly
Shaving with old, dull blades will leave the skin on your legs looking just that, dull. You won't get that clean shave you need, and using an old blade may even lead to more nicks, cuts and skin irritation.
To get that glowing, smooth skin you want, and to get the job done quickly and easily, use a new, sharp razor cartridge.
Of course, how often you change your razor will depend on the thickness of your hair and how often you shave. As a general rule, change your razor cartridge every 5 to seven shaves.
6. Shave in the right direction for a perfect shave
Ever wondered, which direction to shave your legs? There are many opinions about the best direction to shave your legs. Shaving in the opposite direction may lead to skin irritation or ingrown hairs. So, shave your leg in the direction of your hair's growth to get smoother legs.
7. Good things take time
For smooth, flawless legs, shave slowly and gently, and only when you have enough time.
Once you begin shaving your legs, take your time. Rushing may result in an uneven shave, and skin irritation. So, pop on a face mask and your favourite tunes, and don't rush shaving your legs.
8. Moisturize after shaving your legs
Once you're finished shaving, rinse your legs thoroughly and apply a moisturiser. Rinse with cold water, if you can, as this increases circulation and helps reduce inflammation. Applying moisturizer will help to close your pores and protect your skin, it also hydrates your skin and prevents it from becoming dry and irritated.
Perhaps the most important thing about a smooth, close shave is using the best razor and shaving products, and having a good regime for preparing your skin.
For fabulously, smooth legs, shop the best razors for women.